Tom Bowen and Oswald Rentsch
Tom Bowen's gift
Tom Ambrose Bowen was born on April 18, 1916, the third child and only son of William and Norah Bowen. He had two elder sisters, Norah and Beatrice and a younger sister – Agnes.
His parents had traveled to Australia from Wolver Hampton, U.K. around 1910. They settled in Brunswick, an inner Melbourne suburb and Tom was most probably born in this suburb.
When Tom Bowen was young, his wish was to become a medical practitioner. Tom's father was a carpenter / joiner by trade and he would never have considered any of his children getting a better education than was necessary to be employed. Therefore, whether Tom liked it or not, after finishing school he became an apprentice carpenter.
Tom married Jessie McLean at the Salvation Army, in September 1941 and they moved to Geelong, where Tom found a job as carpenter at the local Cement Factory. They had three children: Pam, Barry and Heather.
Tom was a keen sportsman and loved swimming, cycling and cricket umpiring. He successfully ran a Boys Club for the Salvation Army, training boys in various sports, exercises and gymnastics.
His wife – Jessie – was suffering from asthma, being often hospitalized in an effort to help her breathe. Tom started to somehow learn how to help his wife shift her congestion and begin treating her, periodically, by applying his own unique procedures. Jesse's state of health was constantly improving and eventually, she no longer required any medicines or hospitalization at all, thanks to Tom's method.
He had instant results when he developed and applied few procedures to address sport injuries at the Boys Club and was able to relieve any pain his colleagues were complaining at work. Everybody soon found out that Tom had his own method of helping anyone when injured. Whilst still working as a carpenter during the day, he commenced working at nights from home, treating more and more people seeking his help for various health problems.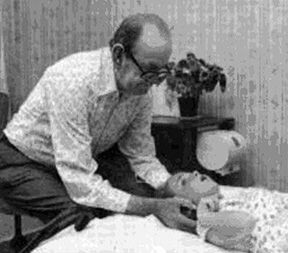 Tom Bowen kept developing and improving his technique. In the beginning 60's it was time for a major decision: should he stay at the Cement works or take the risk and go out "on his own"? Although Jessie, his wife, was not a risk taker, somehow Tom persuaded her to have faith and so he started his own practice at a family' friend home – Rene Horwood, on Autumn Street. Rene had sold her own business by this time and was able to give Tom her support and guidance, based on her sound business experience.
While Rene took over the job of secretary and accountant, Tom was successfully helping people with back pain, sport injuries, asthma, organic complaints, mental and emotional troubles and even offered relieve for disabled people. This was the beginning of the life-long work of the one who would later become revered for his genius in helping people heal.
Soon, he started to have so many clients coming to see him, that it became obvious the business could not stay in a private residence, so the next step was to move to a bigger place, on 99 Latrobe Terrace. However, Tom's practice soon outgrew this as well and the move was made to 283 Latrobe Terrace, Geelong.
He was arriving at the Clinic just before 9 a.m. to commence the day's work. Tom was going home every lunch time for approx. two hours and came back in the afternoon, to repeat the morning's routine. He always had an "open door" for asthma sufferers and pregnant women, although these patients did not comprise a large percentage of his clientele. He would frequently make "house calls" in the middle of the night to offer relief for asthma sufferers.
It has been assessed that Tom worked at the rate of 14 patients per hour and on average; he would see patients two to three times before they were "fixed". According to Pam, if her father met people who were in desperate circumstances or with handicapped children needing extra care, he was the most generous person. At this stage of his career, he could have made a great deal of money, but this was definitely not his priority and it was a blessing that Rene was there to keep an eye on his finances. Every Saturday, his clinic was open to disabled people, where they were treated free of charge.
What Tom could do for people was his greatest reward!
Tom was heavily involved with the local football clubs and it was well known that the practice stayed open every Saturday night until "the last footballer had left".
He also had a special affinity for animals, treating small pets like cats and dogs, but also horses.
Although Tom had no formal training in health care, he became a celebrated therapist, regularly treating over 13.000 patients a year. These figures were verified by the WEB report findings of the 1975 Victorian Government's inquiry into alternative health care professionals.
Tom's healing services were always so in demand that many times his family suffered the effects of having such a well known father, especially on days like Christmas, when he was visiting "special children".
Although many people over the years asked to train with Tom and learn his technique, he however trained only six people: Keith Davis, Nigel Love, (deceased) Kevin Neave, Oswald Rentsch, Kevin Ryan, and Romney Smeeton.
They were regarded as "Tom's boys". All of his "boys" asked him the same question: from where and how he found and developed this amazing technique? He gave all of them the same answer:
"It was a gift of God!"
In 1974, while attending a National Health Conference in Adelaide – South Australia, he was introduced to Oswald Rentsch and invited him to come to Geelong and train with him.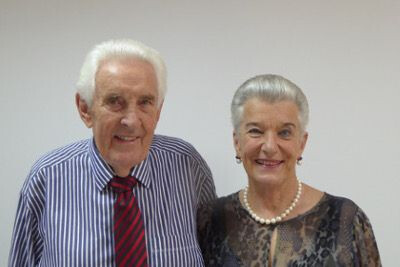 As Bowen had no manuals or charts, he asked Ossie to document his work and authorized him to teach it to anybody interested to learn, after his death.
Ossie's wife, Elaine, also learned from Bowen and after two and half years, in 1976, Ossie and Elaine opened a naturopathic practice in Hamilton – Western Victoria, using only the Bowen Technique as a hands-on modality.
Following Bowen's death, in 1982, pressure was applied on the Rentsch's to start teaching Bowen's work.
However, it was not until 1986 – four years after Bowen's death- that the Rentsch's began organizing training courses, first in Australia and soon on most of the continents. Since 1992, they have introduced the technique to 29,000 people worldwide with the help of 98 instructors, teaching in over 30 different countries, with 18 Bowen Associations affiliated to the Bowen Therapy Academy of Australia.